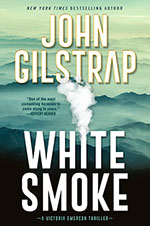 WHITE SMOKE (2023)
One woman will do whatever it takes to lead survivors through the turmoil of a global apocalypse.
One-time congressional representative Victoria Emerson has received a request from the deposed president of the United States—come to the bunker at Hilltop Manor, where the remnants of the U.S. government have been imprisoned. A ruthless band has seized power, leaving civilians to die of starvation and untreated injuries. The self-appointed leader, Roger Parsons, plans to punish the former rulers for thrusting the country into Hell Day, the devastating war that changed the world in just a few hours.
Victoria is reluctant to leave Ortho, the West Virginia town she has developed and defended. But as a born leader, she feels the call of duty. Forging her way through a landscape terrorized by local warlords and desperate scavengers, she arrives at Hilltop Manor to find a powder keg of battling factions.
The lofty ideals on which the Republic was founded and the values that once held society together have devolved into anarchy. Calling on her deepest personal resources and her unwavering convictions, Victoria must somehow return the rule of law to a society where many of the old rules and laws don't matter anymore.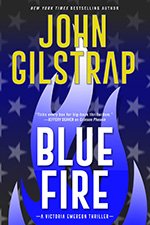 BLUE FIRE (2022)
Stephen King's THE STAND meets ONE SECOND AFTER by William R. Forstchen in New York Times and USA Today bestselling author John Gilstrap's second pulse-pounding thriller set in the wake of a global conflict that has devastated America. Those who survived live in a world without technology or governance and ruled by the whims of nature. They look to one woman—single mother and former West Virginia Congressperson Victoria Emerson—to lead and protect those determined to rebuild all they have lost…
They call it Hell Day—a world war that lasted less than twenty-four hours. Nations unleashed weapons that destroyed more than a century's worth of technology. Electrical grids cannot generate power. Communications and computers cannot run. And the remnants of the U. S. government cannot be depended upon. Those who survived must live as their ancestors did, off a land ruled by the whims of nature.

One-time congressional representative Victoria Emerson has become the new leader of the small town of Ortho, West Virginia. She has been struggling to provide food and shelter for the town's inhabitants, while coping with desperate refugees. An autumn morning's calm is shattered when her teenage son sounds the alarm with the cry "Blue Fire"—the code phrase for imminent danger.

A band of National Guardsmen intends to take Ortho and its resources for themselves. They have enough soldiers and firepower to eliminate anyone who dares to stop them. But Victoria swore an oath to defend and protect her people, and she isn't about to surrender. It's time to tap into the traditional American values of courage, ingenuity, and determination—and fight fire with fire.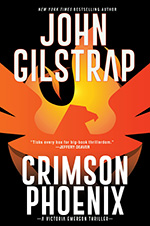 CRIMSON PHOENIX (2021)
With America brought to the brink of destruction, one woman becomes the last hope of a nation and its people…

Victoria Emerson is a congressional member of the U. S. House of Representatives for the state of West Virginia. Her aspirations have always been to help her community and to avoid the ambitious power plays of her peers in Washington D. C. Then Major Joseph McCrea appears on her doorstep and uses the code phrase Crimson Phoenix, meaning this is not a drill. The United States is on the verge of nuclear war. Victoria must accompany McCrea to a secure bunker. She cannot bring her family.

A single mother, Victoria refuses to abandon her three teenage sons. Denied entry to the bunker, they nonetheless survive the nuclear onslaught that devastates the country. The land is nearly uninhabitable. Electronics have been rendered useless. Food is scarce. Millions of scared and ailing people await aid from a government that is unable to regroup, much less organize a rescue from the chaos.

Victoria devotes herself to reestablishing order—only to encounter the harsh realities required of a leader dealing with desperate people.
Download discussion questions (PDF) for Crimson Phoenix
"One of the most singular and compelling heroines to come along in years."
—Jeffery Deaver, New York Times bestselling author

"Snaps with action from the very first page."
—Marc Cameron, New York Times bestselling author of Stone Cross and of Tom Clancy's Code of Honor
"Just the thing for readers who feel oppressed by the pandemic lockdown."
—Kirkus Reviews
"A gripping page-turner."
—Taylor Stevens, New York Times bestselling author
"An explosive story that keeps your mind churning and pulse racing… Don't miss this powerful new series from a master thriller writer."
—Jamie Freveletti, international bestselling and award-winning author