Total Mayhem
"Propulsive… Straightforward plotting, amped-up action, and amusing banter keep the pages turning."
—Publishers Weekly
America is under fire. Multiple terror attacks have left the country reeling. Former Special Forces operatives are working for ISIS. Jonathan Grave and his team go undercover to eliminate the traitors. No need to collect intel. No arrests. Wipe them out—and get out.
But the team uncovers a deeper threat codenamed Retribution. The bombs have been set and Grave is the one being hunted. Unless he can save himself first, a terrorist plot of unimaginable scope will become history's deadliest disaster…
Buy it: Kensington Books | Amazon | Barnes & Noble | BAM | IndieBound | Kobo | iTunes Bookstore | Google Play
Listen to an interview with John from The Story Blender!
Also Available: Scorpion Strike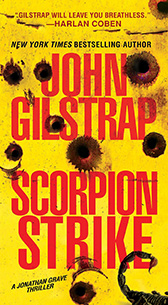 "Sizzling… the perfect summer read for thriller fans."
—Publishers Weekly, STARRED Review
For Jonathan Grave and Gail Bonneville, the Crystal Sands Resort is the perfect getaway—until gunshots shatter the night. Wealthy guests are yanked out of their sleep, herded like animals, forced to submit to their captors' demands. But Jonathan and Gail are no ordinary vacationers. The assassins who invade their bungalow receive a deadly surprise. And two determined, skilled operatives escape into the jungle.
Jonathan and Gail are not the only free agents on the island. Cut off from his usual tactical team, with a pair of unlikely allies he can't fully trust, Grave's only hope of reliable back-up is his partner Boxers, who's hundreds of miles—and hours—away. It won't be long before the invaders turn this tropical paradise into the powderkeg that will set off global chaos. Grave may be without weapons, but he's never without resources. Bold action is the only solution. Like the scorpion, Grave must strike fast and hard…
Buy it: Kensington Books | Amazon | Barnes & Noble | BAM | IndieBound | Kobo | iTunes Bookstore | Google Play (Ebook) | Google Play (Audio)
Praise for John Gilstrap and the Jonathan Grave Series:
"Gilstrap is one of the finest thriller writers on the planet."
—Tess Gerritsen
"Gilstrap is a master of action and drama."
—Gayle Lynds
"Rocket-paced suspense."
–Jeffery Deaver
"A great hero, a really exciting series."
—Joseph Finder
"When you pick up a Gilstrap novel, one thing is always true—you are going to be entertained at a high rate of speed."
—Suspense Magazine
"Gilstrap pushes every thriller button."
—San Francisco Chronicle