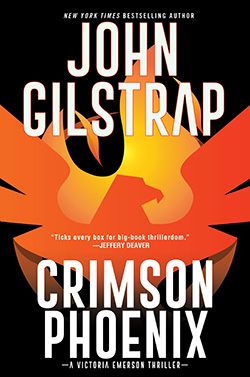 From John Gilstrap, the New York Times and USA Today bestselling author of the Jonathan Grave novels, comes Crimson Phoenix—first in the new Victoria Emerson Thriller series. With America brought to the brink of destruction, one woman becomes the last hope of a nation and its people…
Victoria Emerson is a congressional member of the U.S. House of Representatives for the state of West Virginia. Her aspirations have always been to help her community and to avoid the ambitious power plays of her peers in Washington D. C. Then Major Joseph McCrea appears on her doorstep and uses the code phrase Crimson Phoenix, meaning this is not a drill. The United States is on the verge of nuclear war. Victoria must accompany McCrea to a secure bunker. She cannot bring her family.
A single mother, Victoria refuses to abandon her three teenage sons. Denied entry to the bunker, they nonetheless survive the nuclear onslaught that devastates the country. The land is nearly uninhabitable. Electronics have been rendered useless. Food is scarce. Millions of scared and ailing people await aid from a government that is unable to regroup, much less organize a rescue from the chaos.
Victoria devotes herself to reestablishing order—only to encounter the harsh realities required of a leader dealing with desperate people…
Chosen one of Apple's Best Books in March! "Gilstrap fills the first installment of this postapocalyptic series with terrifying details and emotions that feel raw and undeniably real. Victoria is a sympathetic heroine who relies on her strong survival skills and sound moral compass to navigate the chaos. We couldn't wait to get back into the story each evening to see which insanely tense moments would have us hiding under the covers."
"One of the most singular and compelling heroines to come along in years."
—Jeffery Deaver, New York Times bestselling author
"Snaps with action from the very first page."
—Marc Cameron, New York Times bestselling author of Stone Cross and of Tom Clancy's Code of Honor
---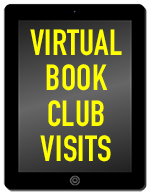 Are you part of a book club? Would you like for me to speak to your group? I have a Zoom account and I know how to use it, so if you'd like me to host a virtual meeting for your club, send me an email at . I'll for sure arrange the first ten, and after that, we'll play it by ear.
In a perfect world, I'll be there because you've read one my books as a group, but I won't make that a deal-breaker (although, in the case of a tie…). Y'all can ask me anything.
Hey, teachers, this goes for you, too. These are the days of the virtual classroom, so why not the virtual author talk to the class? My book NATHAN'S RUN is now middle school compatible, so if you want them to read it, that would be super, but again, that's not a deal breaker. We can get together and just talk about writing. We can figure something out. (NOTE: The old hardcover version of NATHAN'S RUN is NOT middle school compatible. Lots of language. Enough that that version made the list of the 100 most banned books in America.)
As far as logistics are concerned, the only potential problem I can think of is time zones. I live on the East Coast of the USA. But hey, we can make it work.