Final Target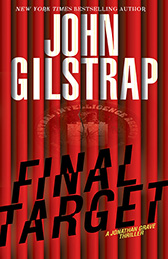 "Thriller Award–winner Gilstrap's exciting eighth outing for hostage rescue specialist Jonathan Grave takes Grave and his partner, Brian Van De Muelebroecke (aka Boxers), on a mission to the Mexican jungle, where they succeed in rescuing DEA agent Harry Dawkins from a compound controlled by drug lord Alejandro Azul. They kill Dawkins's captors and evade armed pursuit only to discover that the pilot who was supposed to fly them to safety has abandoned them. The three wind up at an orphanage, la Casa de Santa Inés, where they find 13 children and a hidden storage area filled with military equipment belonging to Azul. Inevitably, Grave, Boxers, and Dawkins take the children under their wing. The three men face innumerable obstacles as they and their young charges, who display expected and unexpected bravery, make their way to the coast in a bid for freedom. Fans of epic adventure stories will find plenty to like." (Publishers Weekly)
Buy it now: Kensington Books | Amazon | Barnes & Noble | BAM | IndieBound | Kobo | iTunes Bookstore | Google Play
Against All Enemies Wins Thriller Award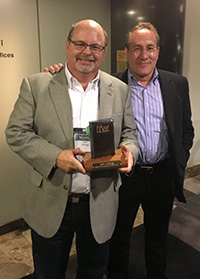 John was awarded the prestigious 2016 Thriller Award for Best Original Paperback for Against All Enemies (Pinnacle Books, July 2015) on July 9, 2016.
The Thriller Awards have been awarded at the annual ThrillerFest conferences by the International Thriller Writers for outstanding work in the field since 2006.
Other 2016 Thriller Award Winners include Joyce Carol Oates, Chris Kuzneski, and Ian Caldwell. At right is a photo of John with best-selling author (and previous Thriller Award winner) Joseph Finder.
Nick of Time
Nick of Time was serialized in eBook form over the course of ten weeks beginning in March 2016, with each episode representing about one-fifth of the book.  Part One was called Time to Run, followed two weeks later by Time to Hide, and then in two-week intervals by Time to Steal, Time to Die, and Time to Live. Then, in October of 2016, the entire story was released in premium paperback as a single volume. Read more about Nick of Time.

Now Available in Audio: At All Costs
Finally available on unabridged audio! At All Costs is a stand-alone novel, but it's the first book in which Irene Rivers, the director of the FBI in the Grave books, is first introduced. Listen to a sample here, and get the full recording from Audible.com:

Listen to John on Crime & Science Radio
John recently appeared as a guest on D.P. Lyle's Crime and Science Radio. The topic: "Things That Go Boom in the Night: An Interview with Weapons and Explosives Expert and Author John Gilstrap." Listen to the full interview here.
Praise for John Gilstrap and the Jonathan Grave Series:
"Gilstrap is one of the finest thriller writers on the planet."
—Tess Gerritsen
"Gilstrap is a master of action and drama."
—Gayle Lynds
"Rocket-paced suspense."
–Jeffery Deaver
"A great hero, a really exciting series."
—Joseph Finder
"When you pick up a Gilstrap novel, one thing is always true—you are going to be entertained at a high rate of speed."
—Suspense Magazine
"Gilstrap pushes every thriller button."
—San Francisco Chronicle